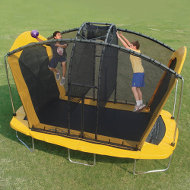 Hammecher Schlemmer is known for outlandish stuff, but it is supposed to be outlandish COOL stuff.
Just watch the game-play video. The humans are stuck in little ravines with one, easily defended hole through which to put the ball.
Hammacher: So it's a trampoline?
Schlemmer: Yes.
Hammacher: But it is no fun at all?
Schlemmer: Exactly.
Hammacher: Novel. I like it!